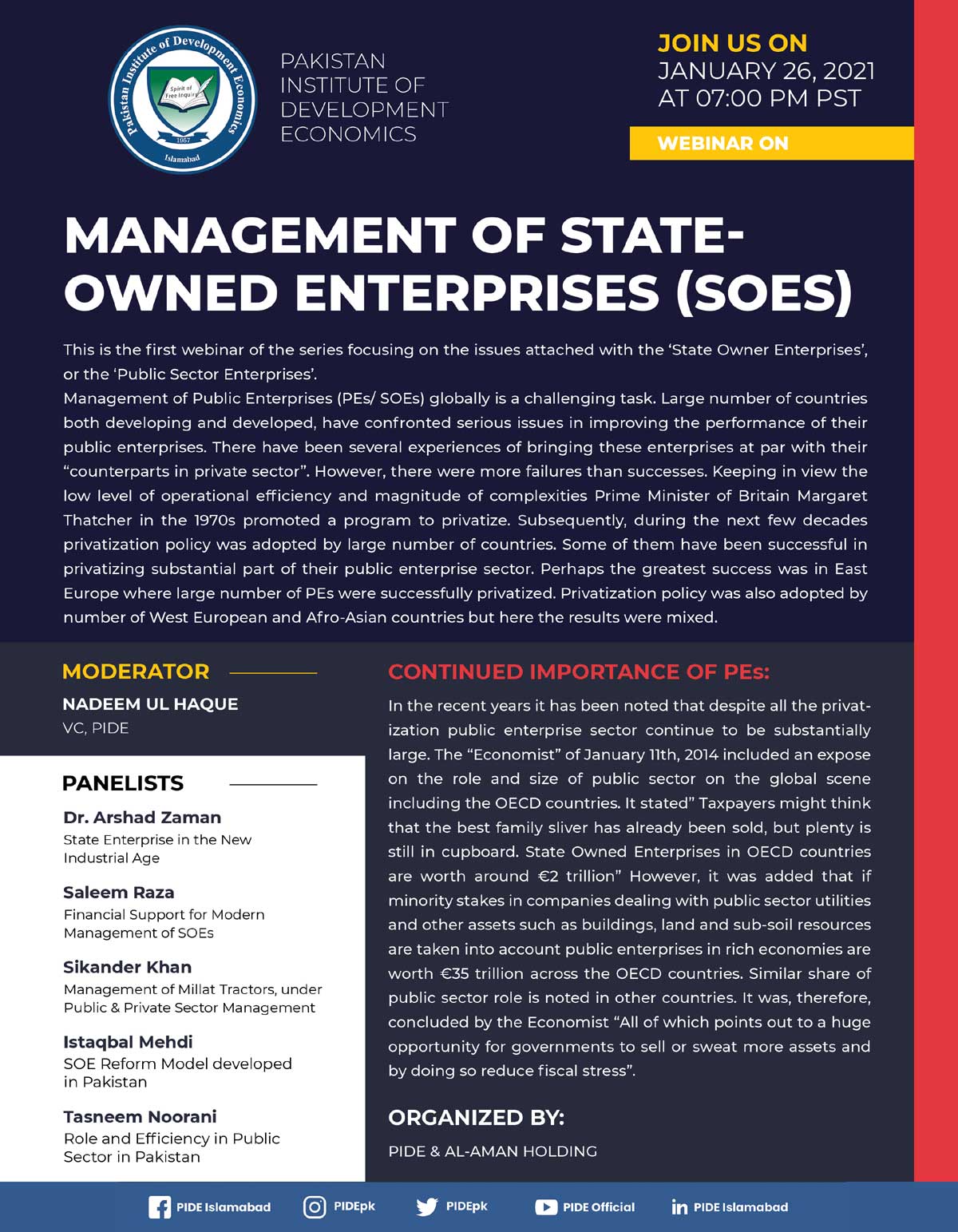 Tuesday, January 26, 2021 at 7:00 PM (PST)
Moderator:
Dr. Nadeem ul Haque (VC PIDE)
Panelists:
Salim Raza
Dr Arshad Zaman
Sikander Khan
Istaqbal Mehdi
Tasneem Noorani
This is the first webinar of the series focusing on the issues attached with the 'State Owner Enterprises', or the 'Public Sector Enterprises'. 
Management of Public Enterprises (PEs/ SOEs) globally is a challenging task. Large number of countries both developing and developed, have confronted serious issues in improving the performance of their public enterprises. There have been several experiences of bringing these enterprises at par with their "counterparts in private sector". However, there were more failures than successes. Keeping in view the low level of operational efficiency and magnitude of complexities Prime Minister of Britain Margaret Thatcher in the 1970s promoted a program to privatize. Subsequently, during the next few decades privatization policy was adopted by large number of countries. Some of them have been successful in privatizing substantial part of their public enterprise sector. Perhaps the greatest success was in East Europe where large number of PEs were successfully privatized. Privatization policy was also adopted by number of West European and Afro-Asian countries but here the results were mixed.
Continued Importance of PEs:
In the recent years it has been noted that despite all the privatization public enterprise sector continue to be substantially large. The "Economist" of January 11th, 2014 included an expose on the role and size of public sector on the global scene including the OECD countries. It stated" Taxpayers might think that the best family sliver has already been sold, but plenty is still in cupboard. State Owned Enterprises in OECD countries are worth around €2 trillion" However, it was added that if minority stakes in companies dealing with public sector utilities and other assets such as buildings, land and sub-soil resources are taken into account public enterprises in rich economies are worth €35 trillion across the OECD countries. Similar share of public sector role is noted in other countries. It was, therefore, concluded by the Economist "All of which points out to a huge opportunity for governments to sell or sweat more assets and by doing so reduce fiscal stress".