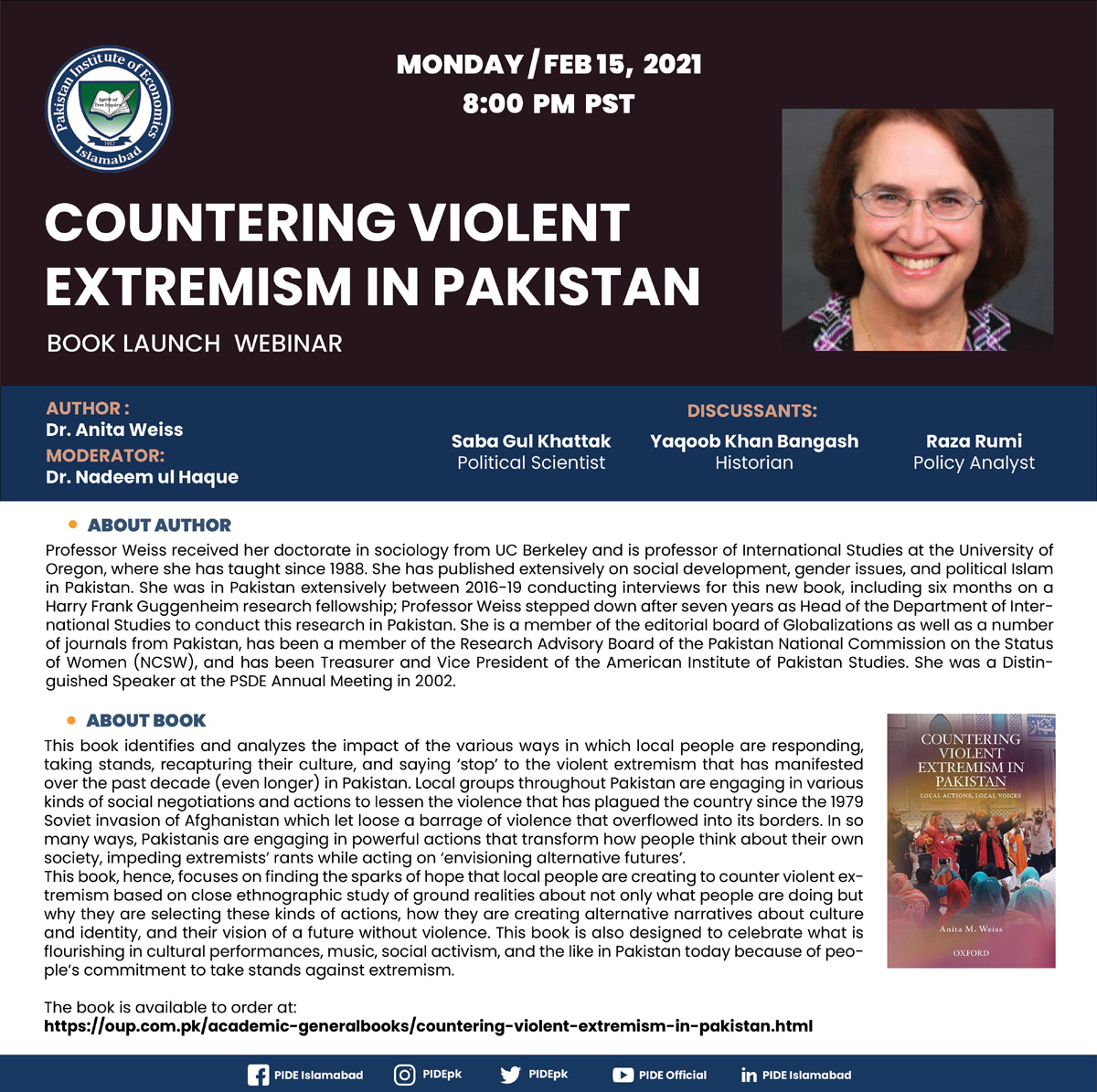 Moderator: 
Dr. Durre Nayab, Joint Director PIDE
Book Author: 
Dr. Anita M. Weiss
Discussants
Raza Rumi, Policy analyst
Saba Gul Khattak, Political scientist
Yaqoob Khan Bangash, Historian
This book identifies and analyzes the impact of the various ways in which local people are responding, taking stands, recapturing their culture, and saying 'stop' to the violent extremism that has manifested over the past decade (even longer) in Pakistan. Local groups throughout Pakistan are engaging in various kinds of social negotiations and actions to lessen the violence that has plagued the country since the 1979 Soviet invasion of Afghanistan which let loose a barrage of violence that overflowed into its borders. In so many ways, Pakistanis are engaging in powerful actions that transform how people think about their own society, impeding extremists' rants while acting on 'envisioning alternative futures'.
This book, hence, focuses on finding the sparks of hope that local people are creating to counter violent extremism based on close ethnographic study of ground realities about not only what people are doing but why they are selecting these kinds of actions, how they are creating alternative narratives about culture and identity, and their vision of a future without violence. This book is also designed to celebrate what is flourishing in cultural performances, music, social activism, and the like in Pakistan today because of people's commitment to take stands against extremism.
Biodata
Professor Weiss received her doctorate in sociology from UC Berkeley and is professor of International Studies at the University of Oregon, where she has taught since 1988. She has published extensively on social development, gender issues, and political Islam in Pakistan. She was in Pakistan extensively between 2016-19 conducting interviews for this new book, including six months on a Harry Frank Guggenheim research fellowship; Professor Weiss stepped down after seven years as Head of the Department of International Studies to conduct this research in Pakistan. She is a member of the editorial board of Globalizations as well as a number of journals from Pakistan, has been a member of the Research Advisory Board of the Pakistan National Commission on the Status of Women (NCSW), and has been Treasurer and Vice President of the American Institute of Pakistan Studies. She was a Distinguished Speaker at the PSDE Annual Meeting in 2002.
Endorsements for book
Anita Weiss, a prolific expert on Pakistan for some 40 years, has written a "must read" groundbreaking book on the role of religion and the exponential increase of religious extremism in Pakistan. Based on exhaustive on-the-ground research, she provides a unique window on how and why people have responded to and what they have done and are they doing to stop the spread of violent extremism. (JOHN ESPOSITO, Professor, Religion & International Affairs and Islamic Studies, Georgetown University; Founding Director, Prince Alwaleed Center for Muslim–Christian Understanding, Georgetown)
Anita Weiss brings to the fore the voices of Pakistanis who have long struggled to counter extremism, intolerance, and terrorism in all its forms. Going beyond the urban areas, she has located people and organizations in smaller cities, towns, and rural areas, where change is happening daily. The diversity of approaches of these change makers is exhilarating: from the non-violence of Bacha Khan to the science focus of the Zoya schools, the stirring and resilient emerging Pashto and Sindhi poetry, to the urban initiatives in art for peace and open spaces. Making a strong case for a hopeful and forward-looking Pakistan, Weiss has certainly opened an important avenue of study. (YAQOOB KHAN BANGASH, Director, Centre for Governance and Policy, ITU, Lahore; Founder, Afkar-e-Taza ThinkFest, Pakistan)