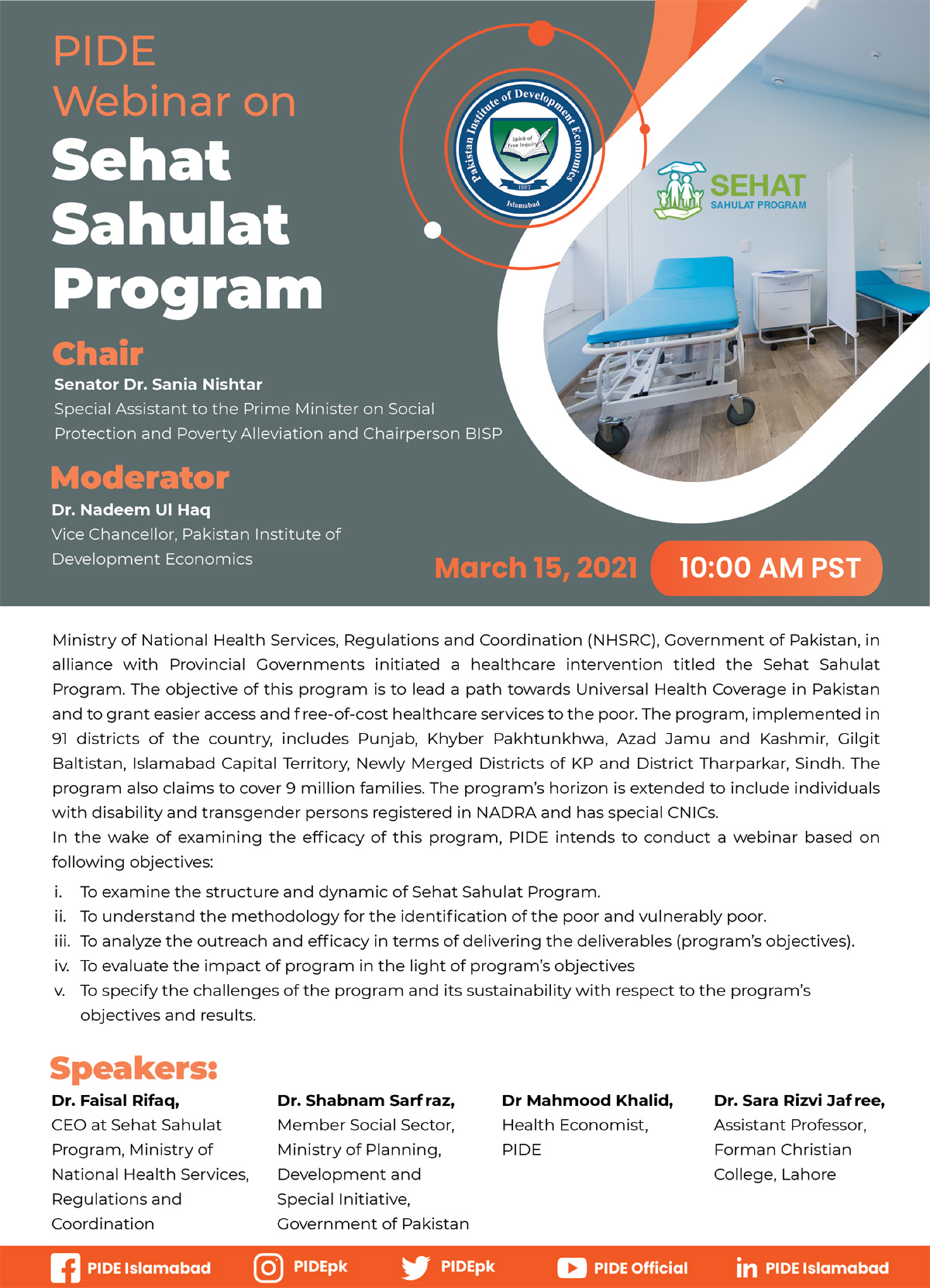 Monday, March 15, 2021 at 10:00 AM (PST)
Chair:
Senator Dr. Sania Nishtar
Special Assistant to the Prime Minister on Social Protection and Poverty Alleviation and Chairperson BISP.
Moderator: 
Dr. Nadeem Ul Haq, VC, PIDE
Speakers:
Faisal Rifaq, CEO at Sehat Sahulat Program, Ministry of National Health Services, Regulations and Coordination
Shabnam Sarfraz, Member Social Sector, Ministry of Planning, Development and Special Initiative, Government of Pakistan
Mahmood Khalid, Health Economist, PIDE
Sara Rizvi Jafree, Assistant Professor, Forman Christian College, Lahore
Ministry of National Health Services, Regulations and Coordination (NHSRC), Government of Pakistan, in alliance with Provincial Governments initiated a healthcare intervention titled the Sehat Sahulat Program. The objective of this program is to lead a path towards Universal Health Coverage in Pakistan and to grant easier access and free-of-cost healthcare services to the poor. The program, implemented in 91 districts of the country, includes Punjab, Khyber Pakhtunkhwa, Azad Jamu and Kashmir, Gilgit Baltistan, Islamabad Capital Territory, Newly Merged Districts of KP and District Tharparkar, Sindh. The program also claims to cover 9 million families. The program's horizon is extended to include individuals with disability and transgender persons registered in NADRA and has special CNICs.
In the wake of examining the efficacy of this program, PIDE intends to conduct a webinar based on following objectives:
To examine the structure and dynamic of Sehat Sahulat Program.
To understand the methodology for the identification of the poor and vulnerably poor.
To analyze the outreach and efficacy in terms of delivering the deliverables (program's objectives).
To evaluate the impact of program in the light of program's objectives
To specify the challenges of the program and its sustainability with respect to the program's objectives and results.