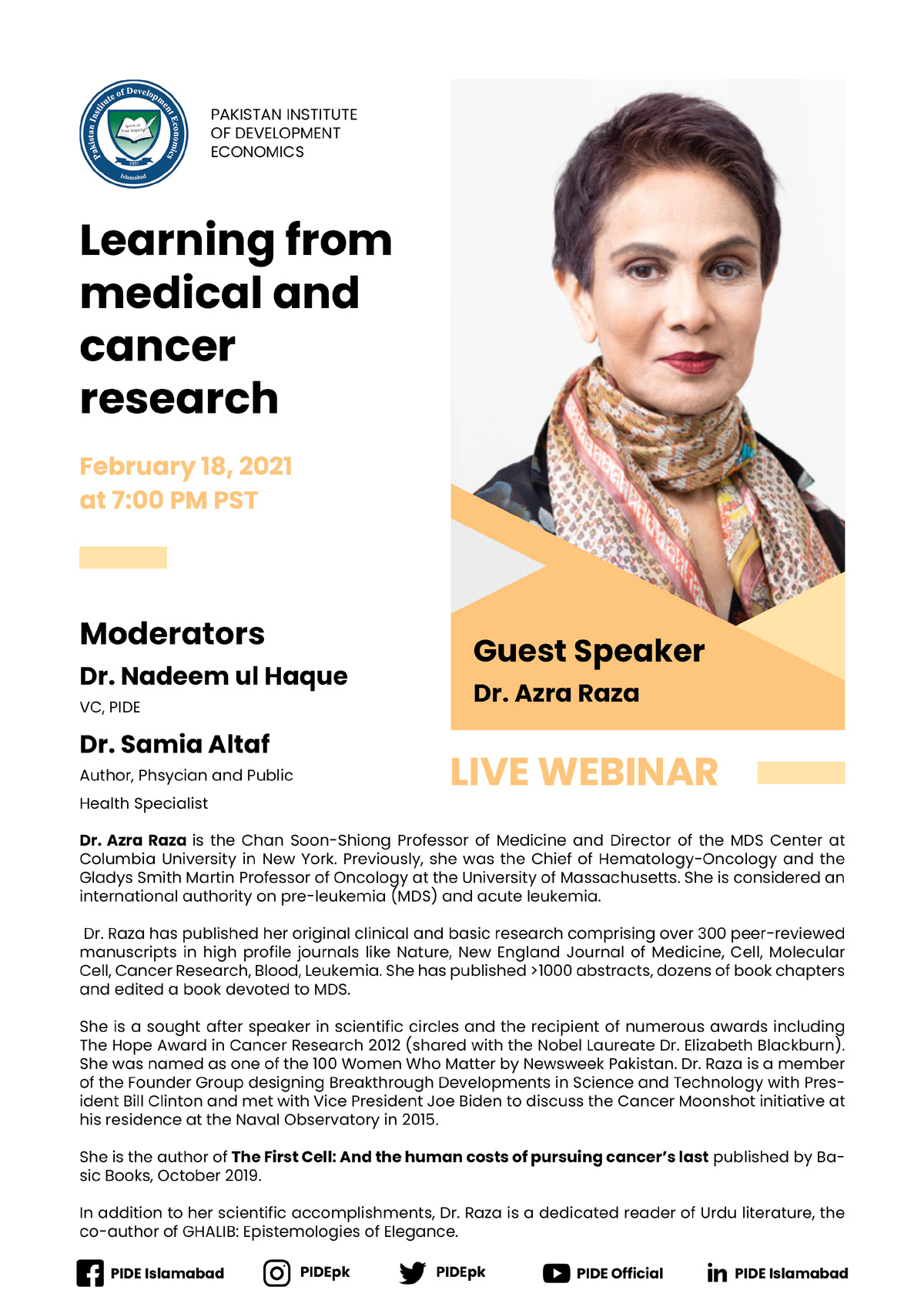 Thursday, February 18, 2021 at 07:00 PM (PST)
Speakers:
Dr. Azra Raza (Cancer Specialist and Researcher)
Dr. Samia Altaf (Public Health Specialist)
Moderator: Dr. Nadeem ul Haque (VC PIDE)
Dr. Azra Raza is the Chan Soon-Shiong Professor of Medicine and Director of the MDS Center at Columbia University in New York. Previously, she was the Chief of Hematology-Oncology and the Gladys Smith Martin Professor of Oncology at the University of Massachusetts. She is considered an international authority on pre-leukemia (MDS) and acute leukemia.
Dr. Raza has published her original clinical and basic research comprising over 300 peer-reviewed manuscripts in high profile journals like Nature, New England Journal of Medicine, Cell, Molecular Cell, Cancer Research, Blood, Leukemia. She has published >1000 abstracts, dozens of book chapters and edited a book devoted to MDS.
She is a sought after speaker in scientific circles and the recipient of numerous awards including The Hope Award in Cancer Research 2012 (shared with the Nobel Laureate Dr. Elizabeth Blackburn). She was named as one of the 100 Women Who Matter by Newsweek Pakistan. Dr. Raza is a member of the Founder Group designing Breakthrough Developments in Science and Technology with President Bill Clinton and met with Vice President Joe Biden to discuss the Cancer Moonshot initiative at his residence at the Naval Observatory in 2015.
She is the author of The First Cell: And the human costs of pursuing cancer's last published by Basic Books, October 2019.
In addition to her scientific accomplishments, Dr. Raza is a dedicated reader of Urdu literature, the co-author of GHALIB: Epistemologies of Elegance.